Jun Song elected APS Fellow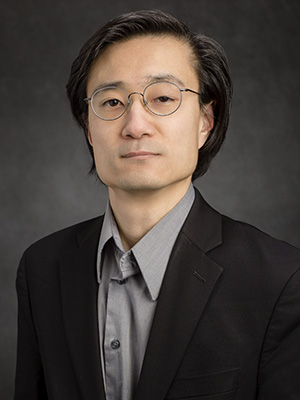 Founder Professor of Physics and Bioengineering Jun Song has been elected a Fellow of the American Physical Society "for the development of advanced signal processing methods to reveal patterns in genomic data and study chromatin structures."
Song is an internationally renowned theoretical biological physicist and bioengineer. His research program in computational biology and biomedicine leverages the methodologies and tools of physics, mathematics, and statistics to discover how transcription factors, chromatin structure and non-coding RNAs regulate gene expression.
Song is particularly interested in the genomic study of cancer. His ongoing research has implications for prognosis and treatment of cancer, in particular of malignant melanoma, one of the deadliest cancers.
Song is a co-principal investigator on the Knowledge Engine for Genomics (KnowEnG) Center of Excellence in Big Data Computing at the University of Illinois at Urbana-Champaign, supported by the National Institutes of Health. He is co-investigator on the Center for the Physics of Living Cells, a National Science Foundation Physics Frontiers Center.
Song is the recipient of many honors, including a National Science Foundation CAREER Award (2011) and a Sontang Foundation Distinguished Scientist Award (2011).
Song received his bachelor's degree in physics from Harvard University in 1996, graduating summa cum laude, and went on to receive a master of advanced study degree in mathematics from the University of Cambridge in 1997, graduating with distinction. He received his doctoral degree in physics from the Massachusetts Institute of Technology in 2001 under thesis adviser Gang Tian of the Department of Mathematics.
Prior to joining the faculty at Illinois, Song held an appointment as associate professor in the Department of Epidemiology and Biostatistics and in the Department of Bioengineering and Therapeutic Sciences at the University of California at San Francisco, where he advised students within the biomedical sciences graduate group, the biological and medical informatics graduate group, and the developmental and stem cell biology graduate group.
Prior to his appointment at UCSF in 2009, Song held a position as a Charles B. Morrey, Jr. Assistant Professor of Mathematics at the University of California at Berkeley (2001–2003); held an appointment as instructor and research fellow in medical physics and as research fellow in biostatistics and computation biology at Harvard University (2003–2005); and was a member of the Institute for Advanced Study's Simons Center for Systems Biology (2007–2009).
Song joined the faculty at Illinois in 2014 as a full professor. His primary laboratory is at the Carl R. Woese Institute for Genomic Biology on the Urbana-Champaign campus.